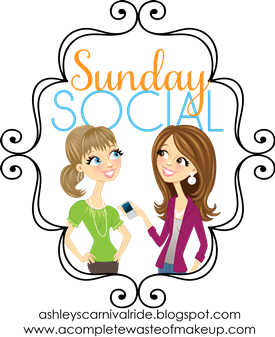 I hope everyone is enjoying a fabulous Sunday today and spending lots of time outside if you're having as nice of weather as we are! Taking a little break to link up my post with the first Sunday Social, hosted by Neely and Ashley. The Sunday Social is a fun link-up that lets bloggers get to know each other a little better.
Today's questions are:
How did you come up with your blog name?
I considered a lot of names and sometime I regret not choosing a "cutesy" more anonymous name. The reason I chose Life with Elizabeth though is that is perfectly describes what I wanted my blog to be. While we may discuss fashion, beauty, home decor, and recipes, my blog is a life blog. Its a compilation of fun stuff like where we ate and what I wore but also a journal of more important things - like documentation of the big moments in my life, and a journal of my thoughts. And I love that no matter how long I blog, it will always be appropriate.
What is your favorite thing about blogging?
Making friends! When I started blogging I thought it would be fun to share makeup and beauty tips and to chat about shoes with other bloggers but I never realized how genuine the women who blog really are. I was so surprised by how much I have in common with you and how many of us have actually become friends.
What is one thing you discovered because of blogging and now can't live without?
Tory Burch Revas. I've been a lover of designer shoes for a long time and definitely believe in spending extra money for comfortable shoes. I'd heard great things about the Revas but before I moved to Hoboken and the Manhattan area I always wore wedges or heels so I had never invested in a good pair of flats. I took the plunge after reading so many rave reviews of the Revas and am so glad I did. I now have them in several colors and wear them almost daily in the cooler months. I couldn't survive in New York without them.
via
Facebook or Twitter?
To be honest, I still haven't taken the twitter plunge. I use Facebook to keep up with my besties from college and pageant and sorority sisters but I don't have a blog facebook page. If I had to choose one to make a blog account, I think I would choose twitter. Then, I could post OOTD or tweet something I need an opinion on and get immediate gratification.
If one celeb read your blog who would you want it to be?
Carrie Underwood! I love Carrie Underwood. Love her hair, insanely jealous of her legs. I like that she is super sweet and doesn't get caught up in celeb drama but also a little sassy (i.e. Before He Cheats, a karaoke favorite of my friends and I in college.) I feel like she and I could be great friends.
What is something you want people to know about your blog?
I really love reading your comments and opinions! I love getting an email with your comment during the day and being able to chat about fashion, weddings, and life. Having girl talk with other bloggers is something I look forward to during the week.