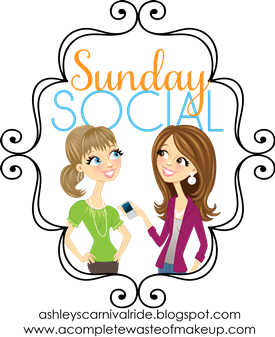 Hi there, ladies! I hope everyone is having a fabulous weekend! I have been enjoying a few days home-home with my family while doing lots of wedding prep. Today, I'm linking up for the Sunday Social.
What is your favorite store to shop at?
Hands down, Nordstrom is my favorite place to shop. I never leave disappointed. I love their shoe selection and the variety of upscale brands they carry. Also, they price match in case you didn't already know. And ordering online is a breeze - free shipping both ways. What's not to love? You can also find me shopping at J.Crew, Lilly Pulitzer, and lots of local boutiques, which in my opinion have the best deals and most unique pieces.

If you could afford anything and everything, which designer brand would you covet?
I would love to add some Chanel to my closet if price wasn't a factor. (Unfortunately, it is). I love how classic and timeless so many of her pieces are. Also, I wish I could have a whole closet full of Lilly, Kate Spade, and Tory Burch, which isn't currently economically feasible.


Must have closet staple?
J. Crew denim. My favorite is the toothpick ankle because it tucks in nicely to boots in the winter but also looks great with ballet flats and sandals. I also love the matchstick for heels. T shirts from Loft are my favorite for casual days. And I love unique dresses for nights out - I usually hit up local boutiques for these. I hate that awkward moment when you're walking down the street and see someone else wearing your outfit.
Jack Rogers or Stephen Bonanno navajo sandals. My favorite Jacks are the platinum but my Bonannos are monogrammed, which I also love.
Tory Burch Revas. So comfy and super cute!! These are a must for walking in the city.
Best clothing deal?
I've scored some awesome deals on denim at the J.Crew factory outlet when they were having their seasonal sale and doubling up with my teacher ID. I'm always looking for a bargain and have found some great ones lately on Kate Spade and French Connection through Shop it to Me. Does anyone use this? Love, love, love. I'm also currently addicted to Ebates. Ever since I got my first rebate check from them, so much guilt has subsided over my online shopping habit. If you haven't heard of it, click the link in the sidebar and sign up. You can thank me later.
Style you'd love to try?
I have a really hard time with maxi dresses. I think its because I'm short and whenever I find one I like, it needs to be hemmed like five inches so I can't bring myself to purchase it. Does anyone else have this problem?