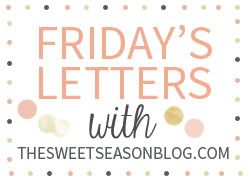 Happy Friday friends! I hope you all have had a fabulous week. Its hard to believe Friday is here already but I am so glad. Corey and I along with some friends are headed to a Yankee's game tonight, which I'm really looking forward to. The weather is a little warmer (mid 50's) and I just love baseball. I'm trying something a little different today and linking up for Friday's Letters over on
Ashley's
blog.
Dear Traffic, We are not friends. I really wish we didn't have to encounter each other EVERY day. Maybe consider taking a vacation?? (Btw I firmly believe anyone who wears a I heart NY shirt has never driven here.)
Dear Lilly Pulitzer, Thank you for making a dishwasher safe coffee to-go cup. This makes my life much easier. And the cute pattern really cheers me up when sitting in traffic. (See above.)
Dear Skinnytaste, You make me incredibly happy. More so, you make my husband incredibly happy. I made spaghetti squash for him for the first time and he was very impressed that there's a vegetable that looks and tastes almost like a carb.
Dear period, You really know how to put a dark, dreary cloud on an otherwise good week. You also know how to make me sick enough to lose 2 pounds. Luckily, I brought in the appropriate reinforcements. (I should also note that I recently changed bc so this is my first one in over 2 years - making it a doozy for sure.)
Dear Target Marguerite Wedge, Welcome to my closet. I hope you know you are very much loved and wanted. In fact, I searched 6 different Targets in order to find you in my size as you were sold out online. I should say find a pair of you in my size - because I actually found a right wedge in my size at my local Target but no left shoe was to be found there. I even recruited the help of two different sales associates before expanding my search to practically every Target in the state. I just know we will be good friends this spring and summer.
Happy Friday lovelies! Hope your weekend is fabulous! xo